Brabant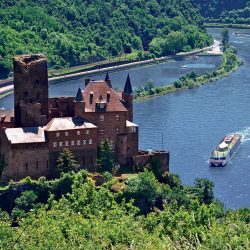 Some of Europe's most spectacular countryside scenery and spellbinding, fairytale-esque destinations await your discovery on Danube, Moselle, Rhine and Main river cruises aboard Brabant. 
 Step aboard Brabant, Fred. Olsen's dedicated river cruising boat. Built in 2006, this elegant and comfortable vessel is in keeping with the British style of our ocean-going cruise ships. Brabant's bright and spacious public areas and 79 well-equipped rooms and suites, spread across four decks, provide the intimate, home-from-home feel which Fred. Olsen's guests already know and love.
Cruise ship staples such as swimming pools, a number of lounges and on-going activities are not in evidence on board, making way for a comfortable ambience and ample space in which to relax and enjoy the river cruise experience with around 150 fellow guests. What's more, Brabant's friendly, attentive crew speak English and guests can pay in pound sterling on board, while the food and fantastic service have been specifically tailored to suit British taste.
Smaller-sized and classically designed, Brabant lends herself perfectly to Fred. Olsen's approach to cruising. Making the most of the boat's size advantage, we can expertly craft simply unforgettable river cruise itineraries which do not only feature some of Europe's most breathtaking river scenery and cities, but also include chances to enjoy journeys along spellbinding, size-restricted sections of rivers during daytime hours and calls into stunning destinations that larger boats can't access.
No matter which incredible Fred. Olsen river cruise you choose you're in for a very special experience aboard Brabant.
Ship Information
Rooms 79
Passengers 156
Crew 40
Length 360ft / 37.5ft
Speed 13.5 knots
Built 2006
Featuring immersive explorations focusing on one country, and a collection of winding journeys of discovery through the heart of Europe, Fred. Olsen's River Cruise programme for 2019 is packed with very special experiences.
On each of Fred. Olsen's carefully crafted European River Cruises there are captivating destinations to uncover, complemented by daylight scenic cruising past effortlessly beautiful landscapes and enchanting towns and cities flanking Europe's most inspirational rivers – the Rhine, Main, Moselle and Danube.
Aboard Brabant, you could visit the Netherlands to see iconic tulips in their famously colourful full bloom in the spring. Or perhaps you'll take your pick from our 2019 Rhine, Main and Moselle valley River Cruises to admire a picture book of valleys, vineyards, verdant forests and a fairytale-esque architecture from on board your boat and during time ashore. For an authentic adventure, a Fred. Olsen Danube cruise is hard to beat, with the Iron Gates Gorge, Schlögener Schlinge, Danube Delta and historic capitals such as Vienna and Budapest creating memories to treasure.